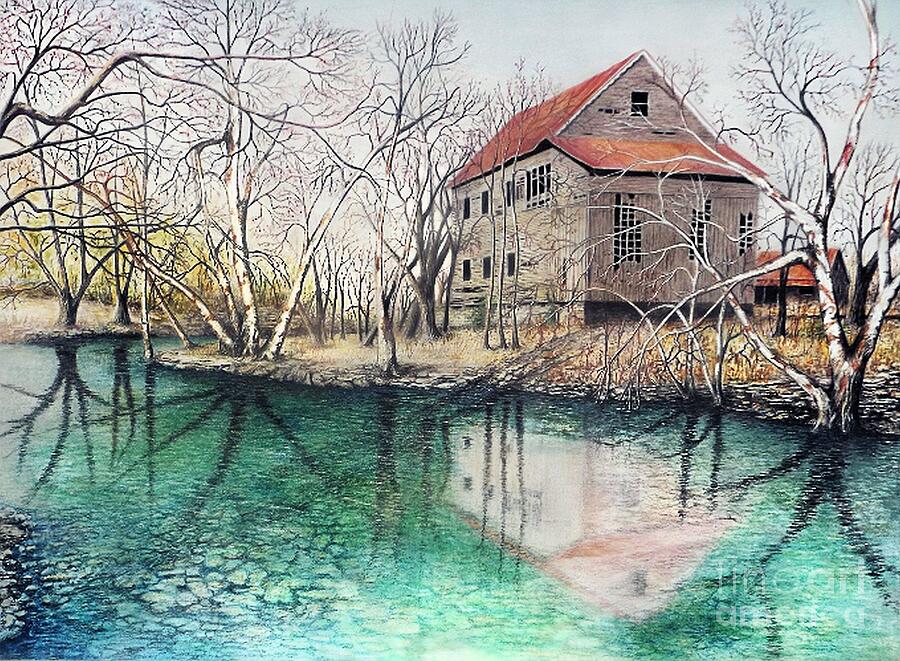 Dimensions
24.000 x 18.000 inches
This piece has been already sold. Please feel free to contact the artist directly regarding this or other pieces.
Click here to contact the artist.
Title
Grist Mill on Clear Creek
Medium
Drawing - Colored Pencil
Description
The location of Guyn's Mill beside Clear Creek is the result of several advantages which the original owners exploited. It is a good location near the rich farmland of the Inner Bluegrass with an abundant supply of virgin hardwood timber and most important, a narrow valley watered by several small streams. Guyn's Mill and southern Woodford County were/are strategically positioned along the early trade routes between Lexington, Mundy's Landing, and
Harrodsburg.

Guyn Grist Mill was a steam powered, 2 1/2 story operative built circa 1870-1880. Measuring 40' X 30', the mill is constructed of massive tenoned beams which frame the circular sawed rafters and joists. Wall treatment is twentieth century clapboard and none of the window sashes survive. A twelve and a half foot wide grain crib is an early addition to the east elevation. The foundation is ashlar cut (finely dressed and cut masonry stones that are worked until squared) that are made of Kentucky limestone with stone piers. Two large buhrstones (porous limestone used for milling) are in situ on the first floor. Although considerably deteriorated many of the sifters, blowers, and augers are in place. In the half basement are housed the large wooden gears and cog wheel, which were powered by a steam engine located outside the west elevation. The steam engine was manufactured by the Ainslie Cochran & Company and is attached to a cast iron boiler made by the I. & E. Greenwald Company of Cincinnati. Both apparatus are surrounded by a limestone wall that previously supported a protective structure.

The Guyn's Mill Historic District is significant as it represents the most intact and visually cohesive 19th century existing across Kentucky; Guyn's Mill best conveys a visual sense of the self-contained, small scale nature of Kentucky's early rural industrial economy. Technologically, the mill buildings reflect a significant shift from water powered to steam powered industry. The water powered sawmill, built c.1840-1850 along plans strikingly similar to those designed by Oliver Evans, has been described as nationally important for the intactness of its original works. It also is the only documented, water powered sawmill which still survives in Kentucky.

In the year of 1784 Robert Guyn (1744-1818), a native of Augusta County, Virginia, came to Kentucky with his wife and three children. Shortly thereafter the Guyn family moved into a remote area of southern Woodford County that later was referred to as "Clover Bottom." The 1792 Woodford County Tax Assessor's List shows that Robert Guyn owned 500 acres,
5 horses and 22 cattle which certainly was a large holding for this early date. Guyn and Robert Black, another pioneer settler, subsequently built a two-story log structure which is believed to be Black's Station. It may have been built for Robert Guyn, Jr. (1774-1844), who in 1796 married Jane Black, daughter of Robert Black. Robert and Jane Black Guyn had 14 children and 68 grandchildren, many of whom married members of the Black family. Although historical and biographical references do not specify exact place of residence, evidence suggests that Robert Guyn III (1796-1850) may have built the log structures which now comprise the rear of the William Guyn House (WD-19). In 1802 Robert Guyn Jr. built a handsome stone house on land east of Mundy's Landing Road, so it would seem unlikely that he had lived in the log house south of Clear Creek.
The photos are from Survey HAER KY-1-A and are free domain use from the Library of Congress. The text is from the application for Historical sites in Kentucky.


Uploaded
April 11th, 2022
Statistics
Viewed 525 Times - Last Visitor from Kenton, TN on 12/04/2023 at 10:56 PM